Class calendar
All classes at this time are online and instructor-led via live video conferencing.

See our class descriptions.

Quick click to online registration.
Classes: Summer & Fall 2023
More Classes in Fall/Winter 2023

See a list of all the topics we cover.
TBA more classes, webinars, and conferences in 2022. Look for:
Accessible PDF Forms with Adobe InDesign
Accessible Templates for MS Word
Accessible PDFs (PDF Remediation and validation)
Accessible + Word + PDF
Accessible PowerPoint Presentations
Crafting Accessible Word Documents: for Writers and Editors
Accessible + InDesign +PDF
Accessible Forms with Adobe Acrobat
Introduction to Accessibility: What everyone on the team needs to know

Learn to fish. Save money. Time. Hassle.
Our services help you maximize your technology, streamline your workflow, and seamlessly build accessibility into your digital publications. Our mission is to train and coach you so well that you no longer need us or remediation services.
By teaching you how to fish — and make accessible PDFs right out of the box — we hope to work ourselves out of our jobs!
PubCom has a full array of courses on accessibility topics, as well as traditional desktop publishing, digital media, and website development. We started offering accessibility training to the federal government in 2001 right after Section 508 and WCAG 1.0 went into effect in the US. That was 20+ years ago and we haven't stopped yet!
We're committed to making documents accessible for government, academia, and industry. Nearly 35% of our fellow citizens have disabilities or impairments that make it difficult to use technologies, and they depend on our work.
Sign up for
our upcoming classes
or we can bring a
custom curriculum
to your organization that can train your writers, editors, desktop publishers, media designers, accessibility techs, and webmasters. Plus, we provide back-office
accessibility services
.
The takeaway: we know publishing, from editorial to design to distribution (print and digital) — and we're accessibility experts (Bevi Chagnon is a delegate to the ISO committees for PDF accessibility). We share our knowledge and help you learn to fish. Our little fisherman keeps us on our goal to retirement … someday! Well, maybe. One can dream.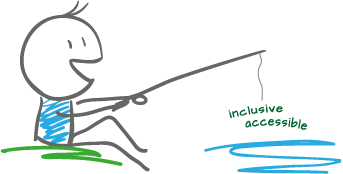 We teach how to make your documents accessible.
We teach how to fish!

Drop us a line and let us know how we can help.